Industrial Construction Concrete Aggregates 
We produce Quality Recycled Industrial Construction Concrete Aggregates 
WHY CHOOSE OUR RECYCLED CONCRETE AGGREGATES?
CDOT Class 6, Road Base Recycled Concrete:
Lower unit weight. Modified proctor density = 120 lbs./cu. ft. = 1.65 tons/compacted cubic yard. This means better yield than that of local virgin bases. Advantage is typically 15% or greater.
Stronger base than most of the virgin (quarry or pit) bases. Hveem test results typically show "R" value in excess of 80. CDOT specifications are a minimum of 78. Crushed concrete base will actually attain a compression strength when compacted at optimum moisture. Laboratory tests show a compression strength of approximately 60 psi at 7 days.
Concrete base excels at durability. After being compacted in place, it is virtually immune to future damage due to adverse moisture conditions. It will perform very similar to a cement treated base. It is presently being accepted by local specifiers as an acceptable substitute for flowable concrete fill.
B. Screened Rock (Recycled Concrete):
Unit weight advantage. Approximately 1.15 ton per compacted cubic yard.
Is excellent for stabilization purposes, and is a good free draining aggregate.
Is widely used as core fill in block retaining wall systems & sanitary under drains.
Concrete Aggregates: Different regional names:
Class 5: CL 5, Class 6, CL 6, ABC, Road Base, CDOT Spec products, Recycled Concrete, Crushed Concrete,
Class 6: Which is also called : recycled concrete, class 5, ABC, Road Base, CDOT Spec CL 6 
Class 6 is a general term for what can be named: road base or recycled concrete. Made out of crushed concrete from old buildings, roads, driveways, sidewalks etc… The recycled " New " products can be Class 5, CL 5 Class 6, CL 6, Road base, ABC, rock, 1 ½ , Spec 5 or Spec 6 and many other names depending the region. 1 ½ screened rock or Recycled Rock is just bigger sixed Class 6, which is recycled concrete.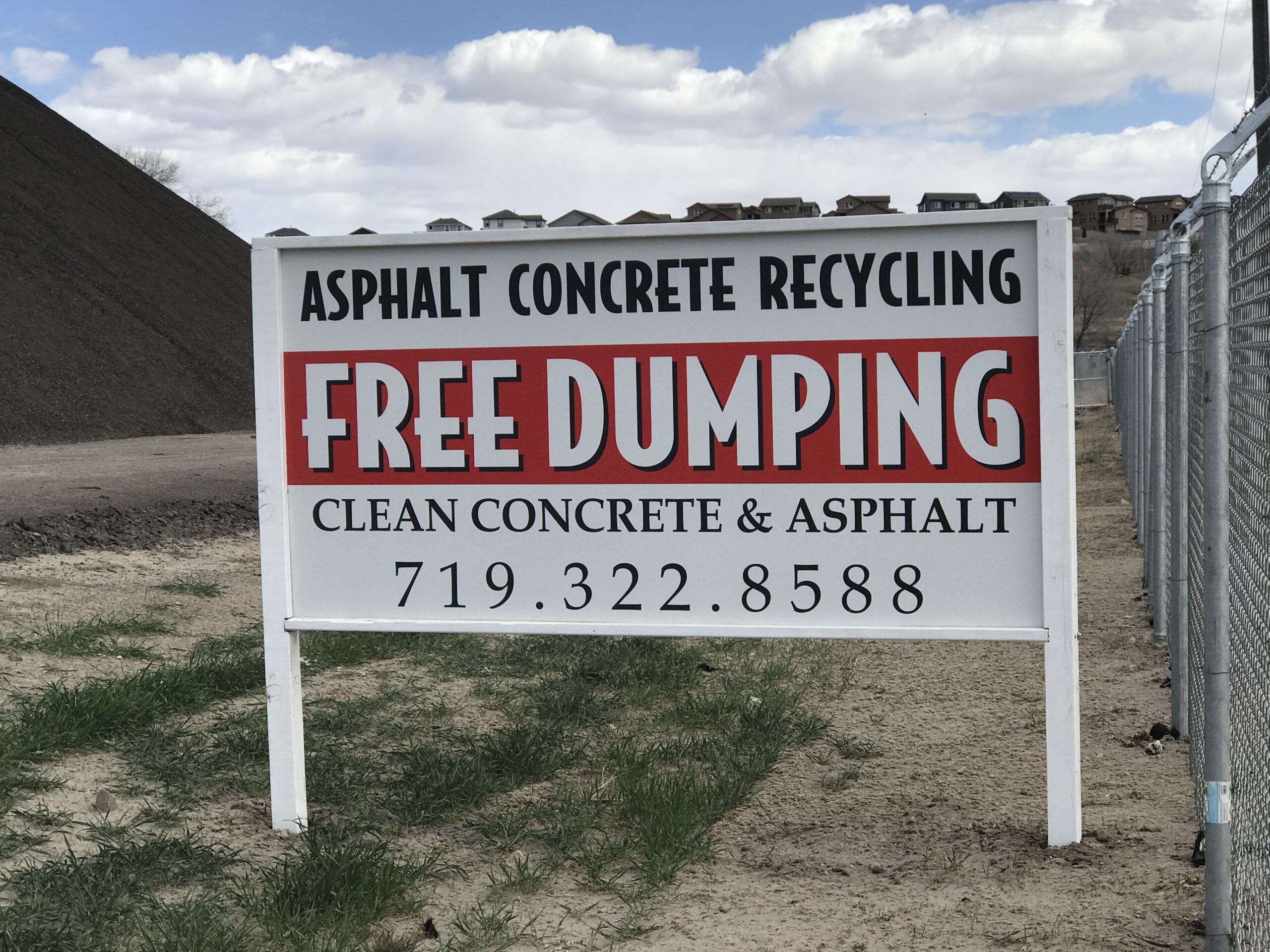 CLEAN FREE DUMPING OF ASPHALT AND CONCRETE!
Industrial Construction Aggregates – Convenient Material Recycling and Concrete Disposal
You can save time and money on your construction project by using recycled asphalt offered by asphalt suppliers. As the leading recycled aggregates supplier and concrete removal specialists in Colorado Springs, CO and nearby, the team at Asphalt Concrete Recycling offers the most convenient way to access the supplies that you need for any type of construction project. Our recycled aggregate products are of the highest quality and provided in a range of grades to cater to your needs. As the leading aggregate recycling provider in the area, we are here to help.
Call for Material Pricing of Construction Aggregates  –  Scale House 719-322-8588